handmade

designed and handmade in Sydney.
intuitive

easy, natural and functional pieces.
interchangeable

providing key pieces of versatile jewelleries to your everyday wardrobe.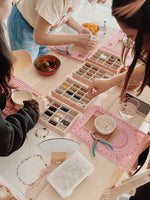 Jewellery Design Workshop
Learn to design and make your own beaded jewellery.

Join us for a fun and relaxing weekend where you will learn to design and make your own necklace or bracelets!

Choose from an array of fresh water pearls, mother of pearls, semi precious stones and glass beads. You will get to mix and match different types beads, colours and sizes to your liking and learn beading techniques to form a necklace or bracelet of your choice.
BOOK A SLOT HERE